Dusty Rhodes Bio
Dusty Rhodes
Real Name: Virgil Runnels, Jr.
Stats: 6' 1" 302 lbs.
Born: October 12, 1945
Dusty Rhodes
By Steve Slagle
Dusty Rhodes is without a doubt one of the most charismatic, entertaining, and famous wrestlers of all-time. During his 1970's and early-1980's prime, he was second only to Andre The Giant (and some would say Andre was second only to Dusty Rhodes) in terms of world wide fame and fan support. Dusty was probably the most loved wrestler in the sport from the mid-1970's throughout the 1980's, consistently drawing exceptionally large crowds wherever he wrestled, be it the N.W.A (and later, WCW), the WW(W)F, the A.W.A, Japan, or anywhere else the nomadic grappler roamed during his 20+ year career. There was something different about the fast talking, down-to-earth "son of a plumber" that endeared him to wrestling fans everywhere. His non-stop traveling between regional and national promotions helped him become one of the top 5 drawing cards in wrestling during his years in the ring. Outside of the ring, he proved himself to be a unique and influential -- as well as controversial -- booker on several occassions in the NWA/WCW. Dusty Rhodes truly was "The American Dream"...the regular guy who made it big. Really big.
But despite the overwhelming popularity Dusty enjoyed during his prime, the rotund grappler from Austin, TX. didn't always have such a loving relationship with the fans...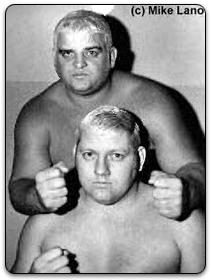 He first gained notoriety in the sport as part of the legendary rulebreaking team The Texas Outlaws with his longtime friend/enemy/friend "Dirty" Dick Murdoch during the mid/late 1960's. The two rugged Texans were despised for their cheating tactics and disrespectful actions towards the fans. But like they say -- in wrestling, the more they hate you...the more they love you!
Brawling and (usually) cheating their way to several Tag Team titles, The Outlaws were certainly one of wrestling's most hated duos! But when, after several very successful years as a team, the two friends parted ways to pursue solo careers...Murdoch went on to achieve great success across the world. But Dusty...he would go on to even greater heights, and eventually became the most popular wrestler in the sport until Hulk Hogan.
In the years after The Outlaws, "Stardust" went on to become one of wrestling's most-traveled competitors. He often wrestled in 2, 3, even 4 different territorial promotions at once. For most of 1979, Dusty had top spot's in the Top 10 of the NWA, AWA, and WWWF simultaneously. It truly was a different time and climate in the sport, and "The American Dream" was on top of the world...
The flamboyant "American Dream" engaged in long, bitter, and bloody feuds (all of which invariably drew record attendance) with some of the biggest names ever...Harley Race, Superstar Graham, The Funk Family, Dick The Bruiser and The Crusher, Ivan and Nikita Koloff, Nick Bockwinkle, Stan Hansen, Bruiser Brody, Ric Flair and (numerous incarnations of) The Four Horsemen, Dick Slater, Kevin Sullivan, Bill Watts, Ted Dibiase, Randy Savage, and many, many more.
An N.W.A. North American (Hawaii) title, N.W.A. North American (Mid South) title, N.W.A. Mid South U.S. Tag Team title (w/Andre), 10 Florida Heavyweight championships, 2 Florida Tv titles, 4 Florida Tag Team titles, 1 Georgia Heavyweight title, 7 Southern Heavyweight titles, 1 Mid Atlantic TV title, 1 N.W.A. National Heavyweight title, 2 NWA/WCW World 6-Man Tag Team titles, 1 NWA/WCW U.S. Heavyweight title, and 3 NWA/WCW World TV titles were among the dozens of championships he won throughout his career. But Dusty always craved "the Big One"... the N.W.A. World Heavyweight Championship. After years of "missing it by that much" do to cheating titleholders and bad luck, Dusty's childhood dream would finally come true. Three different times...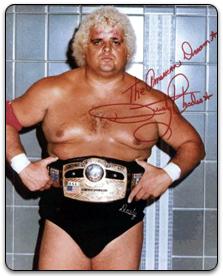 Dusty's first N.W.A. World Title reign was a true heartbreaker. After 3 years of wrestling Harley Race all across the country and losing each time do to count out's, DQ's, or Race's cheating, on August 21, 1979 Dusty Rhodes finally defeated Race and became World Champion. The victory sent shockwaves through the wrestling world...but Dusty's reign was not to be...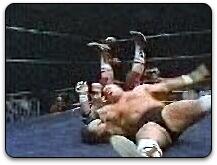 After making 3 successful N.W.A. title defenses (a rematch with Race, and defenses against Terry Funk and Don Muraco) Dusty was set to engage in another rematch with former champion Harley Race on August 26, 1979. But before the match could start, a crazed Terry Funk stormed the ring and, in one of his most famous "sneak attacks" ever, Funk broke Dusty's arm with a knee from the top rope. A disgusted Race nailed Funk with a right to the jaw and even offered to reschedule the match. Dusty refused, saying he didn't want to disappoint the fans. But disappointed they were...Rhodes went on to lose the NWA belt back to Race that night, ending Dusty's 1st World title reign after just 5 days...
Dusty would bounce back, though, and 2 years later he again defeated Race for the NWA World title on June 21, 1981 in Atlanta, GA. Dusty defended the title 4 to 5 nights per week during his 2nd reign, and it was that heavy schedule that would help end his it after just 4 months.

After being injured by The Assassins the night before, Dusty entered a Kansas City ring on September 17, 1981 to face the young and talented "Nature Boy" Ric Flair. Flair overwhelmed the injured champion, and defeated Rhodes for the title. Rhodes would even the score a few years later, though, defeating Flair on July 25, 1986 for the NWA championship. But Flair, and the constant interference of the Four Horsemen, would prove to be too much for Dusty, and Flair regained his title on August 7, 1986.

After a prestigious career in the NWA/WCW, Dusty left his "home" of so many years, and after dabbling in the Florida independent scene for a short time, he ended up in the World Wrestling Federation where, despite the embarrassing "Plumber Man", "Pizza Man", and "Potty Man" video segments he was forced to film upon entering the WWF, he was again extremely popular with the fans. The ovations he received when entering the ring were nearly as loud, if not louder, than those usually reserved by the fans for Hulk Hogan. No matter where he went, fans loved this blue-collar hero, and Dusty became one of the WWF's biggest attractions.
Dusty introduced his debuting son Dustin to WWF fans (although he had made his true wrestling debut in Dusty's Florida-based PWF promotion) and the two formed a team to fight "The Million Dollar Man"...but they soon left the WWF to return "home" to WCW. Dustin has gone on to carve his own niche' as a champion and personality in the sport... while Dusty retired (more or less) from the ring after his last WWF stint and returned to WCW, where he worked behind the scenes. Whether as the controversial head booker, a high-profile announcer, or the more ambiguous "creative consultant," Rhodes always left his mark on the promotion. Fittingly, Rhodes was inducted into the WCW Hall of Fame on May 25, 1995 after nearly 30 years in the wrestling business.

After another nearly 10-year run with WCW, Dusty eventually parted ways with his longtime employer in the fall of `99. Not long afterward, he made big waves once again by making a shocking appearance in E.C.W. It seems that, as always, Dusty is a lot more resiliant (and smarter) than people give him credit for. The Ring Chronicle proudly inducts "The American Dream", the "working man's champion," pro wrestling legend and legitimate creative force, Dusty Rhodes, into T.R.C.'s Professional Wrestling Hall of Fame.........