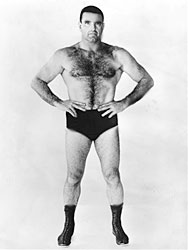 Former Professional Wrestler Don Curtis "The Buffalo Bomber". Don Curtis was a Buffalo boy. He went into submarine service during WWII and then went to Univ.of Buffalo. In 1980 he was inducted into the U.B. Athletic Hall of Fame for his wrestling and football.
He was discovered by Lou Thesz during a scrimmage, and later he became a pro wrestler. He was a promoter in Jacksonville until 1981 when he left wrestling & became the Chief of the Gator Bowl complex.
He finished out his career in life as a City Manager in 1990, when he retired to golf, airplanes and watching his new grandson! He just turned 75 years old in May, and still occasionally hits a golf ball or two.
He is married and has two daughters and a granddaughter and grandson, all living in Jacksonville, FL. His son from his former marriage, lives in New Zealand with his wife and five children, 2 girls and three boys.
Gordon Solie & Don Curtis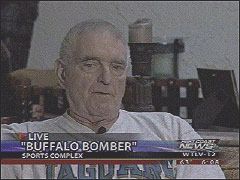 http://www.firstcoastnews.com/news/news-article.aspx?storyid=12130
This is an article on my friend, Don Curtis, (and if you open the link below, and
then click on "high speed" it will also play a streaming video of the interview.)
Don lives with his wife Dotty in Jacksonville, Fl. He was a tough guy, and a good
athlete----always in top shape. I am proud to know him, and spent many hours with
him in wrestling, and in the air with him, as he is also a darn good pilot. He and
Eddie, along with Coach John Heath, gave back by starting amateur wrestling in
Florida. Don also was an Olympic class referee. Eddie and he also did a lot of work
for the Florida Sheriff's Boys Ranch.
When Eddie Graham was alive, and in 1974, I booked Florida, and Don was the promoter in Jacksonville, so spent time with he and Dotty----we have shared many a good meal------and their special salad dressing was awesome.

Quality people like them, are some of my most wonderful memories--------and, I have
many of my era in the business. I was so blessed by so many!
Cowboy Bill Watts

Copyright © 2008 Buddy Huggins Productions & Extreme Midsouth Wrestling All rights reserved.