Skandor Akbar both won and lost when he became the man you love to hate
09/03/2000
By Dave Tarrant / The Dallas Morning News
He wore a bulletproof vest because of threats on his life. He was ambushed by mobs throwing sticks and rocks. His tires were slashed, his windshield shattered, and he was in more car chases than Mel Gibson in Lethal Weapon.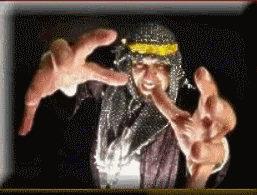 Buddy Huggins/ Mid-South Wrestling
When Skandor Akbar was an active wrestler or manager, he said there could be no mistaking the good guys from the bad. The bad had no fans and drew fire in and out of the ring.

And that's just what happened outside the ring. Skandor Akbar, as the wrestling magazines of the 1970s and 1980s often proclaimed, was "The Man You Loved to Hate."
And the more you hated him, the more he loved it.
"Wrestling is good and evil," he was fond of saying, "and I'm the evil part."
Long before today's cartoonish villains, he was one of wrestling's arch bad guys. During the gas shortages of the 1970s, he was a self-proclaimed oil-wealthy sheik, who taunted fans weary of long lines at service stations. Amid the Gulf War, he swaggered around ringside in a khaki uniform like a certain Iraqi dictator.
Being such a great bad guy forced him to erect a shield over his private life. He did so not only to protect himself and his family, but also to maintain his mystique with fans. And that practice became habitual over the years.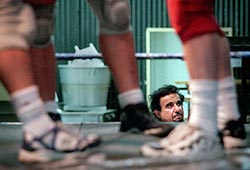 Damon Winter / DMN
Skandor Akbar does most of his work outside the ring these days. He runs a training facility in Terrell.

He's still slow to open up and let people know the other guy - not the wrestler, but the man outside of the ring. The man who has lived in the same suburban Dallas neighborhood for 31 years but knows almost nobody on his block. The man whose wife once told him that he'd been engulfed by his wrestling persona.
"I kept my private life apart," he says, matter-of-factly. "I was like two people."
Wrestling, Skandor says, comes down to this: There are dragons and dragon slayers.
Skandor was a dragon, the archetypal villain, who must be vanquished by the dragon slayer so order can be restored to the world. Later in his career, as a manager, it was his job to find dragons to feed the dragon slayers.
"That's how I explain my world to people: dragons and dragon slayers."
Wrestling is different now from when he started nearly 40 years ago. It's not about good vs. evil anymore.
"See, today it's hard to determine who's bad and who's good. And so you have what I call purgatory fans - they're in between. They cheer for everybody."
In his day, bad guys didn't have fans.
"I never had any. Not that I know of. I'd rather it be that way. And it was risky in those days. People bashing your car windows, cutting your tires. That'll never happen today. It's changed now."
It wasn't only wrestling fans who hated him. Members of the Arab community, including some of his relatives, didn't much care for his caricature either, he says.
He paid them scant attention. He generated heat - the concentrated wrath of fans - that is the red meat of wrestling.
With hyperventilating exuberance, Skandor's manager once boasted to Ring, a wrestling magazine, that "Skandor Akbar is a man from the same mold as I am! He'll bite, stomp, kick, chew or even spit at his mother if it will help him come up with a victory."
Damon Winter / DMN
Skandor Akbar works out six days a week in his Garland home. Here, he does neck lifts with a contraption of leather straps and a steel chain.

Now 65, he still looks like he could throw someone into the second row. At 5-foot-9, he has the compact, powerful build of an NFL fullback. He pumps iron every morning in his garage, and he's "pretty close," he says, to the 56-inch chest, 19 1/2-inch biceps and 27-inch thighs that he used to hurl hapless opponents around the ring.

He keeps his thick black mane the same color it was back then, too, as well as his goatee.
He's been married three times but lives alone now. He books wrestling events with an outfit out of East Texas called Superstars of Wrestling. He works the small towns where wrestling's big name acts will never appear except on television. He runs a wrestling school at Doug's Gym in Dallas and manages youngsters with big dreams as well as grizzled old-timers like Greg Valentine and The One Man Gang.
He still plays the character he invented 35 years ago, strutting outside the ring taunting fans, never mixing with them, always maintaining what he calls his "mystique."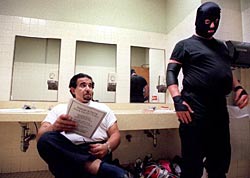 Damon Winter / DMN
Skandor Akbar (left) talks with The Mercenary backstage at the Sulphur Springs Convention Center.

"That's what I learned a long time ago. You don't mingle with the fans," he says.
"So many of the young wrestlers in this business will get out and mingle with people after the show and put their arms around them. And those people will go home and say, 'Aw, he's a good ol' boy.'
"But they've never said that about Akbar. I guarantee it. You can ask around Dallas. They never knew anything about me."
His real name is Jimmy. He was born Sept. 29, 1934, in Wichita Falls, Texas. He grew up in nearby Vernon, although at various times throughout his career, he would say he moved here from Lebanon, Syria or Saudi Arabia.
His father, , did emmigrate from Lebanon and settled near relatives in the Texas Panhandle, where he worked as a grocer. His mother, Mary Edd, also of Arab ancestry, was born in Texas. Jimmy was the youngest of three kids, and his two older sisters doted on him.
At 12, he started lifting weights, spurred by his cousin Doug Eidd, now the proprietor of Doug's Gym. Mr. Eidd was in the Army and en route to Korea when he stopped by his cousin's house and gave him a few weightlifting lessons. Eventually Jimmy could bench-press 500 pounds.

Two of his uncles were also professional wrestlers. One called himself the "Sheik." Young Jimmy went to some matches and found his calling.
This was the late 1950s and early 1960s, the golden era of wrestling. He started out with one of the great legends of that era, Lou Thesz, who knew Jimmy's uncles.
In those days, the country was divided into wrestling territories. The way for a young man to get experience was to go from one territory to the next. This was before Jimmy wrestled under the name of Skandor Akbar. But he was often cast as a villain, or "heel," in wrestling parlance, he says.
"You were typecast a lot in those days. Naturally I was a heel because I was this big, dark-complected guy. Sometimes I wrestled as a clean guy. But the villain was my thing. I tried to be a good guy, but people just didn't like it," he says, chuckling.
In 1966, Fritz Von Erich, the patriarch of the Von Erich wrestling clan in Dallas, suggested he change his name to something that sounded more Arabic. "Then I became Skandor Akbar, which means Alexander the Great."
He was now the "hated Akbar," whose adversary was often Danny Hodge, an Olympic silver medalist and popular "good guy" in the Oklahoma circuit. Later, he "went to war" against the Von Erichs, when the clan was the main draw in Dallas.
The only time he recalls being a fan favorite came during a brief period in 1967. "I went in and saved Danny Hodge from a beating with the Assassins. They had him upside down on the turnbuckle, double-kicking him, the whole works. I don't know what came over me, but I saved Danny. I became the fan favorite for a few months."
The business was a grind, six days a week, a different city everyday. Almost every town had its crowd favorite or "baby face." Skandor often car pooled with the other heels on the circuit, driving one of the dozen Pontiac Bonnevilles he's owned.
"During these trips you could go over different moves you could do. That's how you sharpened up."
To achieve longevity he had to create a personality. That meant engaging in the loud-mouthed, in-your-face finger-pointing, face-contorting, gorilla theater that is an essential part of wrestling show interviews.
"I watched the best, and then I would get by myself and get in front of a mirror and scrunch up my face," he says.
"There are guys who've been in this business for years and years who have never learned to do the interviews. I could make a two-minute interview and never stumble. But I worked on it. It didn't come naturally."
Another key to success was learning crowd psychology, which Skandor defines as "total control over the people."
"Some guys have it, and some guys don't. You have to be alert and pay attention. You can bring the crowd up and bring them down and then bring them up again."
You never, ever give in to the crowd, he says.
"Maybe you have somebody in a hold and you hear people starting to chant, 'boring, boring,' like they do sometimes. I tell my man in the ring, 'You just clamp down harder on that hold. Don't let the crowd get to you. You dictate to them. Don't let them dictate to you.' "
Skandor never let audiences become bored.
"I was always doing something dastardly. They didn't know when I was going to do it."
He would hurl fire at his opponents, choke them on the ropes and dispatch them with his signature "Camel Clutch," in which he'd grab an opponent's chin from behind and pull his head backward.
He knew all the tricks of the trade.
"I could take a guy right now and bust him open. There's a way you do it. You come right down on a sloping angle and bust that eyebrow. But if you don't know how to do it, the poor guy's head'll swell up."
"I did everything. I hid foreign objects, bolts and things like that. Usually I hit in the neck. Sometimes I'd hit in the head."
His opponents often reciprocated in kind. "They'd hit me with something too. But in those days we didn't mind that. We didn't mind blood coming down our faces. We made money."
He wrestled all over the world and especially in Asia and Australia. He was in Singapore, New Zealand, Australia, Singapore, Japan. "It was just beautiful."
In 1974 he won the National Wrestling Alliance's North American Heavyweight Title Belt. About 1977, he retired from full-time wrestling and began managing other heels. He added "General" to his name and took on colorful heels such as Kimala, the Ugandan Giant. By the end of the 1980s, after nearly 30 years in wrestling, Skandor's persona was set in concrete. In a 1987 story in All Pro Wrestling, Skandor was described as "one of the most hated and feared [wrestlers] in the sport."
He was quoted as saying: "I'm never worried about anything. My family is rich, and I am rich. And I can buy anything I want, so why should I be something I don't want to be, like one of those sissy good guys."
Jimmy of Vernon had successfully created a monster. And as with Dr. Frankenstein, he had to live with it.
He is showing a visitor around his Garland home, a two-story house, with red-brick siding, bought in 1969. He lives alone and his only companions are a cat and a dog, both rescued strays.
He doesn't use the kitchen or dining room. He eats all his meals in restaurants and seldom goes upstairs. There are assorted family photos on an upright piano in one room, but no wrestling memorabilia is displayed. He keeps stacks of old wrestling magazines with stories about himself in the closet.
He walks stiffly now and with a slight limp from old wrestling injuries.
"I've got a bad right knee, a degenerative area on my left side," he says, settling into his favorite stuffed chair in the living room, where he likes to watch "the tube" during the day.
He was injured in Jackson, Miss., during a tag-team match that got out of hand. "They got a great big board, and they were whacking me and a guy named Rocket Monroe. Sometimes I still feel it across my arm here. It chipped my elbow."
Another night, after he turned against his tag-team partner Danny Hodge, he got ambushed by some fans.
"These people sent me a note to come by this club. Out of curiosity, I went there. I walked in and these people started whacking me with cue sticks. They were just punks. I knew how to take care of myself. They got in a car and drove away. I didn't realize my head was bleeding profusely. See they hit me across here," he says pointing to a scar at his forehead.
"I got a lot of scars."
He got hit in the head with a rock while walking down the aisle in Boston Garden. In Russellville, Ark., fans threw rocks and sticks at him and a friend as they ran to his car. Other times, he found his car windows smashed or his tires slashed.
And there was that time he had to wear a bulletproof vest. It was in 1985 in the Superdome in New Orleans. The week before in Jackson, Miss., Skandor was managing Kimala and had interfered with the match by throwing a fireball at Kimala's opponent, a guy named Hacksaw Jim Duggan.
This well-publicized act prompted 30,000 fans to turn out for a rematch in the Superdome. When Skandor arrived in the locker room, he was met by New Orleans Police Department officers informing him that there had been 14 calls to the Superdome threatening his life.
"Either you wear this bulletproof vest tonight or you don't go on," he quotes an officer telling him.
He wore the vest underneath his robe and nothing happened.
But he always watched his back.
"I had to be careful where I ate," he says, adding that he did the same thing as a manager. "I never let anybody see Kimala. We'd pick up our food and eat in the hotel."
People tried to follow him home as he drove away from the Sportatorium in Dallas. "I'd have to lose them. I didn't want anybody to bother my house and my family. That's why I kept my personal life so quiet."
He has one son, Darryl, from his first marriage. He got his first divorce when Darryl was still an infant.
Darryl Wehba, 37, lives in Duncan, Okla., where he grew up. He is married and has an infant son of his own. Darryl recalls watching his father on television and occasionally live.
"When I was real young growing up, he wasn't around much. But I simply adored him. I was his biggest fan. He never missed a Christmas or a birthday. Sometimes he couldn't be there right on my birthday, but he'd come a little later."
When Darryl dreamed of wrestling, however, his father discouraged him. "He didn't want to see me get into it. He knows you can't hold down a family."
A construction worker, Darryl says he doesn't begrudge his father's absence. "He played his part so well. He was the ultimate bad guy. As far as everybody else knew, he was from the Middle East. He knew how to get people riled up. That's what they thrive on. That's what kept them people coming back."
Skandor was married to his second wife, Doris, for 18 years before she died suddenly of kidney failure. He married his third wife, Peggy, in 1989, and "by mutual agreement," they were divorced last year, he says.
Peggy once told him that she thought he had trouble separating his public and private lives, he says. "I think she felt like this thing had engulfed me," he says.
"To an extent, yeah, I guess it did," he says. "I've really tried to amend things like that. When I was in my heyday, I'd always have that scowling look on my face."
Like an actor associated with one part, or an old spouse who can't imagine life without the partner, he accepts his life.
"Probably me being in professional wrestling for so many years, my personal life was sacrificed. [Wrestling] was such a different kind of thing. It just kind of ruined my personal life so much."
Over time, he says, "Akbar took over the Jimmy part.
"When people call me Jim or Jimmy it's a surprise to me. They call me 'Ak' or 'Akbar' or 'General.' "
Probably the person he is closest to is his 10-year-old stepgranddaughter, Kaylie, who lives in Garland. She calls him "Doe," a variation on the Arabic word for grandfather.
Kaylie was born two months prematurely. "She was so small I could hold her in the palm of my hand," Skandor says. "I guess we bonded right then."
He likes to take Kaylie out once or twice a week for dinner. When he was sick recently with a cold, she made him colorful get-well cards, which are still taped to his refrigerator.
"He loves me and he protects me," she says of her grandfather one evening at Ryan's, their favorite restaurant in Garland. Later, at his house, she kids him while looking through some old wrestling magazines he has brought out of the closet.
The magazines seem to stir the old embers.
"I'd do it all over," he says. "I'd relish it like a good meal. I'd gobble it all down. If they opened the Sportatorium today, I could walk down that aisle, and I would still have a lot of heat.
"I still love the business. One thing I'm so proud of, it's like an epitaph for me. I was always true. I was always straight down the line."
Kaylie holds up a magazine. "What were you doing here?" she demands. "Biting his head?"
He gives her a sheepish smile and puts on his glasses to take a closer look. "Hmmm. That looks like Terry Taylor," he says to himself.
"Did you win?" Kaylie asks.
He nods his head.
SPONSORED BY:




"To better appreciate what you now have, it is necessary to know what has been."




To Hear Some past Interviews with Akabar and Buddy Huggins CLICK HERE!

FOR MORE "The General" Skandor Akbar's
Devestation Inc. CLICK HERE



To Go Back to the NEWS PAGE CLICK HERE
Copyright © 2001 Buddy Huggins Productions & Extreme Midsouth Wrestling All rights reserved.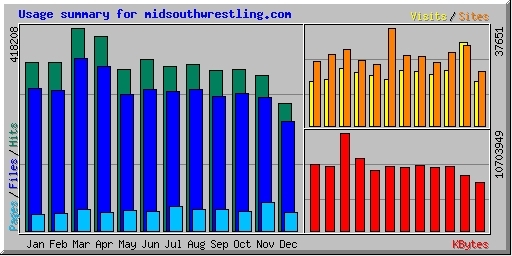 Yes This Site is For Sale, e-mail me at
buddyhuggins@gmail.com