JUNKYARD DOG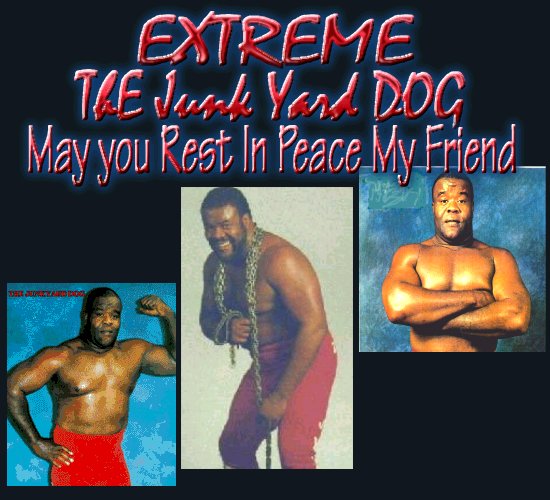 by Jess McGrath

Sylvester Ritter, known in the wrestling world as Junk Yard Dog, died on June 2, 1998 in an auto accident nine miles east of Forest, MS. He was killed at 11:18 AM when he fell asleep behind the wheel and crashed his 1996 Nissan while driving on I-20 from Charlotte, North Carolina to his home in Yazoo, Ms. He was 45.

.In his later years, Junk Yard Dog was a joke among smart fans and in the "insider" circles. But one should be careful not to underestimate his influence and drawing power in the business. JYD was one of the biggest babyfaces in the United States during the 1980's, leading Bill Watts' Mid-South to heights previously unseen, as well as holding the number-two babyface position in the WWF while Hulk Hogan ruled the roost. JYD's career began rather inauspiciously. He had a run as North American champion in Stu Hart's Stampede territory as a heel named Big Daddy Ritter. Managed by the late John Foley (who also managed Dynamite Kid during his heel run there), Ritter beat Alo Leilani on December 1, 1978, in Calgary for the belt. He dropped the title to Jake Roberts in April 1979, but would regain it four months later. Larry Lane beat Ritter for the title not shortly thereafter.

It wasn't until Ritter went to Mid-South that he truly found his niche in the sport. Bill Watts knew his territory well. Even though he had a reputation for hostile race relations during his run as head of WCW, Watts nevertheless understood the importance of using minorities. He took JYD and gave him a big babyface push. That's not to say it wasn't deserved. He had very good charisma and his interviews were perfect for the role he was supposed to play. It didn't hurt that Ritter was a big man, and Watts' territory was always designed for big men. JYD got over huge, but it was an angle with the Freebirds that solidified his status as a draw. In that angle, Michael Hayes and Terry Gordy "blinded" JYD. Despite "not being able to see", Dog wrestled Hayes in a dog-collar match at the Louisiana Superdome in 1980. The JYD-Hayes main drew 26,000. From that point forward, Junk Yard Dog was a big name star. From 1980 until 1984, Dog had an incredible run in Mid-South. He was always working at or near the top.

With various partners such as Dick Murdoch, Mike George, and Mr. Olympia, he captured the tag team titles from the Samoans, who were managed at different times by JYD heel foils Ernie Ladd and Scandor Akbar. He was given the North American title (the top belt in the territory) on June 21, 1982, beating Bob Roop in New Orleans. This was a set-up for a classic angle where Ted DiBiase turned heel. Roop was supposed to face DiBiase for the title in a no-DQ match on TV from the Irish McNeil Boys Club in Shreveport, LA, but since JYD had dropped the belt to Roop, JYD had to pick up the commitment. Roop stuck around to do commentary and spent most of the time talking about how JYD and DiBiase were great friends. Of course, this meant the friendship was about to end. DiBiase hit Dog with a loaded glove and got the pin for the belt. The angle marked the start of an incredible DiBiase run as a heel (his first). Dog soon lost a loser-leaves-town match, and he resurfaced as the masked Stagger Lee. This was the same angle done in numerous territories before and after, with guys like Tommy Rich (Mr. R in Georgia) and Dusty Rhodes (Midnight Rider in Florida and Crockett). Lee pinned DiBiase for the North American title on November 25, 1982. When JYD's leaving town stip expired after 90 days, he returned and Lee "disappeared". The title was stripped from Lee and put up in a tournament. The finals came down to Dog and Mr. Olympia. Kendo Nagasaki ran in and kicked JYD in the throat, and Olympia made the cover. The ref, who had been bumped earlier, was still groggy when he made the count, and failed to notice JYD was on his stomach!


They redid the finals in a cage, and Dog won when Olympia pinned himself with a sleeper (a finish done most recently at Chi-Town Rumble '89 with Rick Steiner and Mike Rotunda). By mid-1983, Dog was working a long-term program with Butch Reed, who had turned heel after initially starting in the territory as a babyface. Reed beat Dog for the North American title, but Dog got his revenge by refereeing a match between Reed and Magnum T.A. for the belt, and costing Reed the belt (the title was later returned). T.A. was a mid-carder at this point, and the win was the beginning of his career elevation which led him to Jim Crockett and a major spot in WCW. JYD beat Reed to win the N.A. title for himself in October 1983. Again, JYD found himself in one of the best angles of the time when Mr. Wrestling II turned heel. The Wrestling II turn still ranks as one of the most enjoyable, with II playing a cranky old man complaining about almost anything modern. II won the North American title from JYD shortly after he turned heel. The program with Reed was still going on, and they began doing an angle where Reed tried to paint a yellow streak down Dog's back. The paint led to tar and feathers, and that led to another of the great angles in which Dog was involved. He and Reed wrestled a ghetto street fight at the Superdome where Ernie Ladd and Buddy Landel interfered and cost him the match. They tried to tar-and-feather JYD, but all the babyfaces ran out and saved him. Ladd and Reed split, but Landel was trapped and was tarred-and-feathered himself. In the midst of the talent "raids" from other territories that marked 1983 and 1984, the WWF contacted Junk Yard Dog and got him to jump. JYD walked out on Mid-South without giving notice. Watts tried to bury him on his own television, and even brought in Master Gee (George Wells) to take Dog's place. Wells never had the charisma of JYD and failed miserably, ending up almost as a jobber. The real Dog had gone to Titan, and he was given a monster push upon his arrival. What got him over in Titan was what got him over in Mid-South: his charisma and the perfection with which he played his character.

He had a good run with Greg Valentine over the Intercontinental title in late-1984/early 1985, culminating with a match at the first WrestleMania where JYD won the match but not the belt. When Terry Funk joined the WWF later in '85, JYD got to work with him, and they did a months-long program. They did numerous angles which are well-remembered, including the debut of Dory Jr. (later called Hoss) and the branding of Jimmy Hart on Saturday Night's Main Event. Pay-per-view, which was just coming of age in 1985 and was placing a distant second to closed-circuit as the choice of promoters, was given a chance by the WWF with a show called The Wrestling Classic on August 7. It was essentially a one-night tournament of which people remember very little (mostly because the matches were ridiculously short, even by the standards of that time). JYD won the tourney, beating Randy Savage by countout. At WrestleMania 2, Dog and Tito Santana lost a tag match to the Funks. Several months later, JYD was programmed with new arrival Harley Race, who was doing a gimmick where he called himself "King" of the WWF. Race kept trying to make JYD bow to him, but he wouldn't. Their feud climaxed at the third WrestleMania, in front of 78,000 people, where Race pinned the Dog. The stip of the match was that JYD would have to bow down to Race if he lost; after doing it half-assed, he clobbered Race and left a hero.



The Race match marked the beginning of the end for the Junk Yard Dog in the WWF. Simply put, his time had passed. His run, for lack of a better term, had run out. His appearances on WWF television were rare, and his last hurrah in the WWF came at WrestleMania IV in March 1988, where he was a participant in a battle royal. He eliminated Race, a sort of symbolic one-up from their program, before getting dumped by Bret Hart and Bad News Brown, who would shoot an angle right afterward to establish their program, the one that started Bret on his path to stardom. For JYD, though, he had already seen the top, and it was now a journey downward. After lying low for quite some time, the Dog resurfaced, this time in WCW. He did an interview at the ill-fated Capital Combat '90 pay-per-view (does anyone remember The Return of Robocop?), and did a quick little angle with Jim Cornette to get JYD back over. Less than a month later, the Dog was headlining at house shows against Ric Flair, pinning him in non-title matches. Smart fans decried the finishes. JYD was never a great worker, but when his age was combined with his added weight, he was positively terrible. Nevertheless, the WCW "brain trust" programmed him with their champion, even giving Dog a main event against Flair at a Clash of the Champions. The match was a lot better than anybody had a right to expect, and Dog won by DQ due to Four Horsemen interference. JYD found a spot in the Dudes with Attitudes, a babyface version of the Horsemen led by Sting (who won the WCW title from Flair just a month after Dog's Clash match). A few months into his run, JYD was flat and not over. He had a terrible match with Moondog Rex at Halloween Havoc '90, a match which accentuated what everybody in WCW now knew: JYD wasn't in the WWF for a reason. That reason was because his days were done.

Dog worked the independent circuit after leaving WCW. He would have one more run in Atlanta, this time in 1992, before moving on to the indies. JYD competed for a time in Jerry Lawler's United States Wrestling Association promotion and won his highest honor by holding the USWA Unified World Championship in September and October of that year. He lived in Charlotte at the time of his death, but he was active on indy shows in Louisiana. His weight in recent years had ballooned to over 325 pounds, and his work was disgraceful, but promoters booked him because he had made his name there. His last appearance on a major show was as part of a legends segment at ECW's Wrestlepalooza show, where he received one of the loudest ovations of the night. Nobody knew it at the time, but it was a fitting tribute to one of the biggest draws of his era. Nobody would ever accuse Junk Yard Dog of being in the league of Kenta Kobashi as a worker. The true smart fan, though, must discriminate between work and drawing power. In the United States, those two are rarely connected. Instead, being a big name wrestler in the U.S. depends on the person's look, charisma, and ability to be in the right place at the right time. Junk Yard Dog abundantly had all three, and it was that and that alone which put him on the path to a seven-year run as a top babyface, and furthermore gave him a spot in wrestling history as one of the most popular and most recognizable wrestlers of his generation.

Terry, Bam Bam, Gordy, was special.
Vince McMahan, / Owner of The WWE

Vince 'baldy' McMahon Backstage. DAMN! see NEW VIDEO

CLICK HERE!
Col. Buck Robley

The VIDEO STORE is Up and Runnig,
CLICK HERE

Ernie "Big Cat" Ladd Rest In Peace
CLICK HERE Read and See more Videos at Ernie Ladd's Page
Reeser Bowden interviews Ernie Ladd Re: Andre The Giant
From '78 in Tri-State Wrestling (which covered the area that Mid-South
would eventually take over). Ladd calls Andre a dummy eleventy times.
Classic stuff.